Professional Epoxy Flooring Contractors in Orlando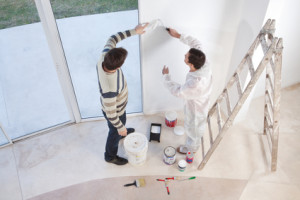 Orlando is a large metropolitan area that is located almost in the center of the Florida peninsula. Because of its proximity and structure, Orlando residents have several different options to choose from when looking for a professional painting service. 
Mr. Epoxy and Paint LLC is one of the many Orlando painting services in the area. We believe in providing our customers with superior painting services that other painting contractor can't provide.  Our professionals have over 20 years of experience in the painting and flooring industry, and we combine this experience with our high quality customer service for a unique experience for our customers. 
Orlando residents may have several different painting contractor to choose from, but none of them have the skills, talents and experience like Mr. Epoxy and Paint LLC. Our professional Orlando painting services include interior painting, exterior painting, commercial painting and more. We also provide several different flooring options including epoxy flooring and decorative concrete. 
Orlando Painting Contractor
At Mr. Epoxy and Paint LLC, we believe we do more than just supply affordable painting services for customers. We believe that we are contributing to improving the community with every painting service that we provide. Our professional painters live in this part of Florida as well, and they enjoy seeing the community flourish just as much as you do. You can trust that we will take our time with your paint job, and we will work to make sure everything meets your high standards. 
We provide residential Orlando painting services that can dramatically improve the appearance of the inside and the outside of your home. Painting the outside of your home, not only benefits you, but the entire neighborhood.  Friends and neighbors will be just as proud of your new paint job as you will be. 
Mr. Epoxy and Paint LLC also supplies commercial painting services the interior and the exterior of business, offices, retail stores and more. The appearance of your business affects how customers perceive you in the professional world. If your business's paint job is chipping away, your customers will think you don't care enough about your business to improve it. Our professionals provide you with affordable options for making the inside and the outside of your business look its best. 
Orlando House Painter
Parts of our Orlando painting services include painting the inside and the outside of homes in the Orlando area. When you are looking to improve the inside appearance of your house, Mr. Epoxy and Paint LLC can help. We provide affordable interior and exterior painting services for your home. 
Our professional painters can paint the inside of your house in a variety of different ways. We provide textured painting services to add style and class to your walls. The walls can be covered with layers to make them feel textured, or they can be designed to look textured but feel smooth. Our painters also provide fine detail painting where they pay close attention to painting features of your home that you want highlighted. 
When it comes to exterior painting services, our painters are not amateurs. They have the artistic skill and experience to successfully paint the outside of your home. We use weatherproof paints that will hold up to the toughest weather elements. We also provide our customer with eco-friendly paints that have no VOC. We believe that painting your house doesn't have to harm the environment. 
Orlando Epoxy Flooring
The flooring in most garages are generally made out of concrete. Concrete flooring is durable and will do a decent job, but for a better flooring option you need epoxy coating.
Mr. Epoxy and Paint LLC provides superior epoxy flooring services that includes applying a thick coat of epoxy coating to your existing concrete floors. This will not only make the floors in your garage look better, but it will make the more functional. Epoxy flooring is more durable, stronger and it is easier to clean. 
Mr. Epoxy and Paint LLC can provide epoxy flooring installations in offices, retail stores, residential homes, garages, parking decks, warehouses, hospitals and more!
Recent Articles 
How to Successfully Add Color to your Lakewood Ranch Home

There are a lot of people out there who are afraid of bright colors. When it comes to adding color to their homes, they avoid it like that plague. Thankfully, colors do not have to be that scary. There are several different rules and tips that you can follow to successfully add color to your...

Read More
Decorative Tips and Techniques for Venice Interior Painting

When it is time to paint the interior of your home, you don't have to go with just a flat color. There are several different Venice interior painting techniques you can use bring life to the rooms in your house. An interior paint job requires the assistance of a professional Venice interior painting contractor, but...

Read More
If you are looking for an Orlando Epoxy Flooring Contractor, please call Mr. Epoxy and Paint LLC at 941-448-1405 or fill out our online request form.