Professional Epoxy Flooring Contractors in Bradenton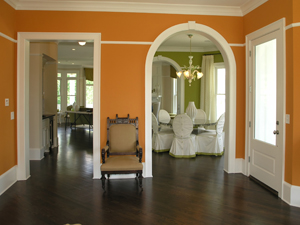 If you are looking to add a great feature to your home, epoxy flooring in the garage can be the answer. Epoxy flooring is a great choice for garages, warehouses and industrial plants because it can be easily cleaned.  Epoxy flooring is also incredible durable and long lasting. It is built to handle heavy pieces of machinery such as your cars. 
Mr. Epoxy and Paint LLC provides both painting and epoxy flooring services to the residents of Bradenton. As a Bradenton epoxy flooring expert, we believe in provide our customers with superior flooring installation services for both commercial and residential clients. 
Our company has been providing Florida with professional home improvement services since 1998. Our expert company owners have over 20 years of experience in the painting and flooring industry. We combined this expertise with our willingness to please our clients to create a superior painting contractor. 
Why You Should Hire Mr. Epoxy and Paint LLC:
Over 20 years of experience in design and installation of all listed products
Completed manufacturing training courses
Constantly continue our education in the painting industry
Offer services for both commercial and residential clients
Bradenton Painting Contractor
While our Bradenton epoxy flooring services is a great way to improve the appearance of your garages, the rest of your house needs different services. As a high ranked company in the painting industry, we are a superior painting contractor that provides both commercial and residential painting services. 
Painting your business can seem like a huge job to undertake, and by yourself it would be. Thankfully, our professionals make painting your commercial building an easy task. We have a detailed process that includes a free consultation with our designers to help you find the perfect look for you company. We customize our commercial painting services to meet all of your company's special needs. 
Your house deserves a professional paint job. The professionals at Mr. Epoxy and Paint LLC are the best house painters in the district. We provide superior painting services for the inside and outside of homes in the Bradenton district. If you are looking for a way to update your home's appearance, a fresh coat of paint is the answer. 
Bradenton House Painter
A house is a family's comfort. When life gets hard and things in the outside world are out of control, the first place everyone wants to go is home.  Since your house is your family's refuge, it should reflect the style of your family and compliment your lifestyle. 
The best way to improve your home's appearance is through a professional Bradenton house painter. Mr. Epoxy and Paint LLC provides the best house painting services for the interior and the exterior of homes. Our professionals are skilled at painting, and they have attended all of the painting manufacture's courses on how to successfully paint. 
We provide a variety of painting techniques for the inside of your house include textural painting and fine detail painting. With textured painting, paint can be swirled and layered to create unique styles in different rooms in your house. We use actual textured paint to give your walls an exceptional look and feel, or our professionals can use different colors to create a simulated textured wall. This gives your wall all the looks of a texture, but it doesn't feel rough and sanded. 
Mr. Epoxy and Paint LLCing provides fine detail painting for trims and door frames. We pay close attention to detail when painting around other colors. We can even add finishing touches such additional lines or swirls. These patterns can enhance your room's appearance. 
Bradenton Epoxy Flooring
We have already stated that Bradenton epoxy flooring the most durable and water resistant flooring, but we haven't specified where to use epoxy coating. Our professionals can install epoxy floors in garages, warehouses, hospitals, treatment plants, parking garages and more. 
This type of flooring is specifically made to withstand heavy machinery and spills. This floor is ideal for a commercial setting or a residential work area. Mr. Epoxy and Paint LLC provides the best Bradenton epoxy flooring services in the district. Our process includes handling all of the prep work, calculations, color mixing and application.  When it is time to redo the flooring in your work area, epoxy flooring is the best option for durability and strength.  It also gives off a pleasant appearance. 
Recent Articles 
Decorative Tips and Techniques for Venice Interior Painting

When it is time to paint the interior of your home, you don't have to go with just a flat color. There are several different Venice interior painting techniques you can use bring life to the rooms in your house. An interior paint job requires the assistance of a professional Venice interior painting contractor, but...

Read More
Interior Painting Tips: Choosing the Perfect Color

Interior painting is a great way to update your Bradenton home when you're tired of looking at the same old thing every day. A fresh coat of paint can give your living room or bedroom a whole new look, making it one of the easiest ways to freshen up your décor scheme without breaking the...

Read More
If you are looking for a Bradenton Epoxy Flooring Contractor, please call Mr. Epoxy and Paint LLC at 941-448-1405 or fill out our online request form.