Bradenton Concrete Repair Service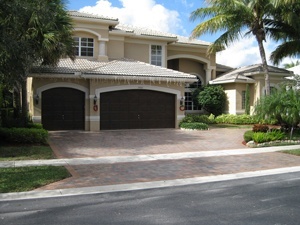 Concrete is commonly used throughout an entire house during the construction process. Chances are your home has a variety of concrete areas inside and outside. When comes to Bradenton concrete repair services, you need a professional painting contractor who not only know how to work with the material, but also understands the specific needs of your concrete service. 
Mr. Epoxy and Paint LLC is a professional concrete repair company that provides repair services for both commercial and residential clients. Our professionals can renovate your chipped and damaged concrete to restore the appearance of your home. 
Concrete is one of the most crucial construction material used in an assortment of site structures including driveways, sidewalks, walkways, stairs, patios, porches and walls. Mr. Epoxy and Paint LLC has over 20 years of experience in the concrete repair industry, and our experts can repair any type of concrete structure using our detailed Bradenton concrete repair service. 
Bradenton Residential Concrete Repairs 
You have concrete feature all along the inside and the outside of your house. You have concrete floors in your garage. You have concrete walkways and sidewalks. Chances are, you probably have concrete stairs leading up or down from your house to your yard. These concrete features were built to last, and they have lasted for years. However, this doesn't mean that they do not require regular maintenance. 
Concrete provides excellent performance throughout the service life of the structure when it is mixed properly and caution is taken during the curing process. However, once the mix has been laid and dries, the aging process begins. Without ongoing maintenance, water may enter through cracks and holes may form, undermining the substrate.
When you take advantage of our concrete repair services, Mr. Epoxy and Paint LLC will improve the appearance of your home.
Our concrete restoration services include:
Concrete Small Repair
Decorative Concrete Floor Coating
Concrete Acid Staining
Garage Floor Epoxy Coating
Bradenton Commercial Concrete Repairs
Since Bradenton provides professional Bradenton concrete repair services, we make sure that all of our experts are skilled and trained properly. One of the best services that we provide includes concrete repair services for commercial business. 
Concrete is located all around your commercial business. It may even be located inside your building. Most commercial businesses have concrete driveways, parking lots, walkways and stairs. These areas are constantly being exposed to the outside weather. Even if your concrete is coated with weatherproof materials, it can still be easily damaged by Mother Nature. The best way to keep your concrete looking fresh is through Mr. Epoxy and Paint LLC's professional Bradenton concrete repair services.  Mr. Epoxy and Paint LLC has the experience necessary to make your concrete strong, durable and long lasting. 
Recent Articles
What You Need To Know About Epoxy Flooring

Epoxy flooring is a highly popular, extremely durable type of flooring that applies well to almost any hard surface. If you're considering epoxy as an option for your home or business then there are a few important facts that you should know. There are essentially two main types of epoxy: water based and solvent based....

Read More
Decorative Concrete Options for Your Bradenton Home or Business

The recent surge in popularity of decorative concrete in Bradenton isn't really all that surprising when you consider how beautiful and economical it is. When it makes an otherwise dull and boring surface beautiful and durable, why not make use of it? There are also so many places you can use decorative concrete in order...

Read More
If you are looking for Bradenton Concrete Repair Contractor, please call Mr. Epoxy and Paint LLC at 941-448-1405 or fill out our online request form.