Expert Bradenton Pressure Washing Services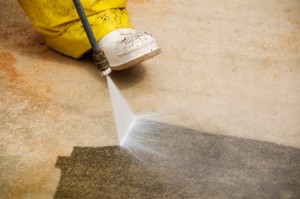 It is crucial for a professional pressure washer to know what surfaces you can pressure wash and what surfaces you cannot. Areas such as decks, patios, driveways, parking lots and walkways all benefit from a pressure washing. Your home siding and roof, however, require a different cleaning method. 
The professionals at Mr. Epoxy and Paint LLC provides superior Bradenton pressure washing services, and they understand what areas can be pressure washed and what areas need to be avoided. 
Pressure washing involves using a high powered pressure washer that emits water had a high velocity. Because the water pressure of a pressure washer is so great, the heavy piece of equipment is considered dangerous. 
At Mr. Epoxy and Paint LLC, we make sure that all of our experts are properly trained to handle a high powered pressure washer. We guarantee that they will follow all the recommended safety rules and guidelines to safely clean your surfaces. 
We provide pressure washing services to both commercial and residential clients. If you are a commercial client, you will benefit from our Bradenton pressure washing services tremendously. The outside appearance of your business needs to superior at all times.  However, over a period of time, your exterior features such as walkways, drive-thrus and parking lots can become ridiculed with contaminates.  Contaminates can decrease the appearance of your business and drive your customers away. 
We also provide residential pressure washing services that will improve the appearance of your home's exterior features. We can clean surfaces such as your patio, decks, sidewalks and more. Our experts will use high powered pressure washers to blast away dirt, mold, mildew and difficult to remove rust stains. 
When you take advantage of our professional Bradenton pressure washing services, you can guarantee that your home's exterior features will be left spotless.  We provide our customers with two different options for pressure washing. 
Our professionals can provide you with an annual Bradenton pressure washing service. We will set up a specific time of the year that you want your home to be cleaned, and every year we will provide you with the same great pressure washing service. 
If you are just looking for a quick clean, we provide our customers with a onetime cleaning services that will have your extremities looking amazing. We recommend that you try our pressure washing service through a onetime deal. If you are happy with the results of our service, we can set you up with an annual service. 
At Mr. Epoxy and Paint LLC, we believe in provide our customers with more than just a regular pressure washing services. We combine our experience and talents with our professional attitudes and gracious customer service to create an exceptional pressure washing service. 
Recent Articles
Decorative Concrete Options for Your Bradenton Home or Business

The recent surge in popularity of decorative concrete in Bradenton isn't really all that surprising when you consider how beautiful and economical it is. When it makes an otherwise dull and boring surface beautiful and durable, why not make use of it? There are also so many places you can use decorative concrete in order...

Read More
The Increte System – Petersburg Decorative Concrete Options

Petersburg decorative concrete is a great way to add style to the inside and the outside of your home. Increte is a specific brand of decorative concrete that can be used throughout your Petersburg home. Increte systems are available in a wide array of patterns that make your concrete floors look like granite, slate, stone,...

Read More
If you are looking for Bradenton Pressure Washing Contractor, please call Mr. Epoxy and Paint LLC at 941-448-1405 or fill out our online request form.