Bradenton Paver Restoration Service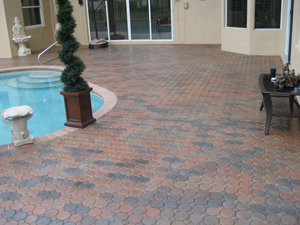 The patios, driveways and walkways of your home are paved with strong, durable material. However, as this material is constantly exposed to the harsh weather elements, such as heavy rains, bright UV rays and hard hail, it can easily be damaged. 
Cracks and splits can make the outside features of your home look terrible, and they cause your feature to deteriorate at a faster pace. The best way to stop your paved features from going down the drain is through a professional Bradenton paver restoration services. 
Mr. Epoxy and Paint LLC provides professional restoration services for the paved features of your home including your driveway, sidewalks, patios and more. Our experts are trained to repair and restore all types of paved features. 
Just like your home, these features need proper maintenance to keep them looking fresh and new. Bradenton paver restoration services also increase the lifespan of your paved features. Rebuilding structures around your home can get expensive, and once these structures have started to deteriorate, they will only get worse. When it's time to restore your paved areas, Mr. Epoxy and Paint LLC is the only contractor you should trust to get the job done successfully. 
Our professionals start your Bradenton paver restoration service with a complete inspection of all the paved areas around your house. We will pinpoint the exact trouble areas and suggest how to fix them. Once these areas have been confirmed with the homeowner, our professionals begin the restoration process. 
We start by determining what type of paved material your feature is made out of. For example, your driveway was paved with a specific type of tar and an exact color. Our professionals will match these specifications exactly so there is no discoloration in your driveway. When applying the new pavement, our professional will smooth the service completely so there are no lumps or large patches. 
Your features need to be smooth and flat to achieve the perfect appearance you are striving for your home. At Mr. Epoxy and Paint LLC, we believe in provide dependable Bradenton paver restoration services that our customers with trust and recommend to all of their friends. 
Why You Should Hire Us As Your Bradenton Paver Restoration Company:
Mr. Epoxy and Paint LLC is a professional flooring and painting contractor in the Bradenton area. We provide more than just painting and flooring services. All of our services are geared towards improving the appearance of your home. This includes our professional Bradenton paver restoration services. 
At Mr. Epoxy and Paint LLC, our professional workers are all trained and properly experienced in paver restoration. We continue our worker's training services throughout their entire employment. This ensures that they are up to date in the latest paver restoration processes, and they can better serve our customers. 
Recent Articles
What You Need To Know About Epoxy Flooring

Epoxy flooring is a highly popular, extremely durable type of flooring that applies well to almost any hard surface. If you're considering epoxy as an option for your home or business then there are a few important facts that you should know. There are essentially two main types of epoxy: water based and solvent based....

Read More
Decorative Concrete Options for Your Bradenton Home or Business

The recent surge in popularity of decorative concrete in Bradenton isn't really all that surprising when you consider how beautiful and economical it is. When it makes an otherwise dull and boring surface beautiful and durable, why not make use of it? There are also so many places you can use decorative concrete in order...

Read More
If you are looking for Bradenton Paver Restoration Contractor, please call Mr. Epoxy and Paint LLC at 941-448-1405 or fill out our online request form.