Bradenton Interior Painting Contractor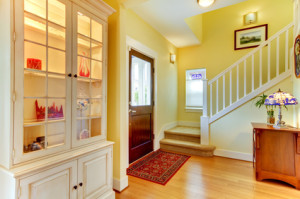 The inside of your house should reflect the attitude and style of your family. As the homeowner, it is your job to decorate your house. One of the best ways to improve your home's interior appearance is through a professional Bradenton interior painting service. 
Mr. Epoxy and Paint LLC is a professional interior painting contractor that has years of experience in the painting industry. We provide our customers with high quality paint jobs for the interior of their home or their business.  All of our painters are trained in the latest interior painting techniques. You can trust that our paint jobs will be completed on time and within the set budget. 
Our Bradenton Interior Painting Process:
When it comes to painting the interior of your home, Mr. Epoxy and Paint LLC has a detailed interior process that guarantees the success of your interior paint job. Before we start your painting process, we give you a free consultation with our professional designers. 
Our designers have the artistic eye and the experience to help bring your dream interior paint job to life. They can help you create the perfect color pallet to match the inside of you home. Once your consultation is over, we will decide on an exact painting time frame and stick to it throughout the entire painting process. 
After arriving at your home, our professionals will prep the room for your Bradenton interior paint job. We start by removing all of the removable furniture from the room. The rest of the room such as floors, countertops, appliances and furniture are covered with drop clothes and plastic to help avoid any paint splatter. 
Before start painting, we make sure that your drywall is ready to receive the paint. Drywalls should be a completely smooth canvas that is clean and damage free. If your drywall is harmed, the outcome of your interior paint job will be affected. 
Once the drywall is ready, our professional painters apply an even coat of primer followed by two coats of fresh paint.  At Mr. Epoxy and Paint LLC, we offer a variety of paints from leading manufactures including Sherwin Williams, McKinnon Materials and Increte Systems. 
 At this time, we will complete any textured painting or fine detailed painting services that you have requested.  Textured painting is a great way to bring your walls to life and add a unique feel to a room. Our fine detailed painting service will provide your walls with a clean, professional look. 
After the entire interior painting process is complete and the paint has dried, our professional painters will conduct a thorough inspection of the painted room to ensure that not a drop of paint is out of place. If you have any problems with our painting services, our professionals will work diligently to resolve them. 
Bradenton Commercial Interior Painting
Mr. Epoxy and Paint LLC also provides Bradenton interior painting services for commercial clients as well. Painting the inside of an office or business can be a challenging job, but the outcome is well worth the trial. 
There are several reasons to paint the interior of your office. A new paint job will be pleasing to your employees and your customers. First impressions are everything in the business world, and if your customer doesn't feel that your business looks the part, they will not utilize your service. At Mr. Epoxy and Paint LLC, we believe in providing you with professional interior paint jobs that will keep customers coming back to your business time and time again. 
A new commercial interior paint job can also change the way your entire business functions. Happier employees will work harder. A new interior paint job can make your employees proud of the company they work for, which will increase production. Adding different colors is also a great way to improve the mood of your office. 
At Epoxy & Paint, our professionals know exactly what styles and colors of paints to use in what situations. Our designers can put together a color pallet for your work that will lighten the mood and increase productivity.  

Recent Articles
What You Need To Know About Epoxy Flooring

Epoxy flooring is a highly popular, extremely durable type of flooring that applies well to almost any hard surface. If you're considering epoxy as an option for your home or business then there are a few important facts that you should know. There are essentially two main types of epoxy: water based and solvent based....

Read More
How to Successfully Add Color to your Lakewood Ranch Home

There are a lot of people out there who are afraid of bright colors. When it comes to adding color to their homes, they avoid it like that plague. Thankfully, colors do not have to be that scary. There are several different rules and tips that you can follow to successfully add color to your...

Read More
If you are looking for Bradenton Interior Painting Contractor, please call Mr. Epoxy and Paint LLC at 941-448-1405 or fill out our online request form.