The Increte System – Petersburg Decorative Concrete Options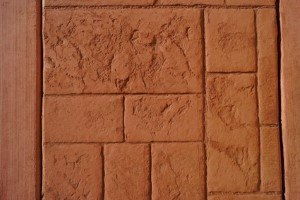 Petersburg decorative concrete is a great way to add style to the inside and the outside of your home. Increte is a specific brand of decorative concrete that can be used throughout your Petersburg home. Increte systems are available in a wide array of patterns that make your concrete floors look like granite, slate, stone, brick and even wood.
You can hire a professional contractor to install Petersburg decorative concrete in your home today. These floors can be installed at a fraction of the cost of a conventional flooring material, but still give you the same great look.
A Few Petersburg Decorative Concrete Options:
Stone-Crete
This type of decorative concrete can give your concrete the illusion of hand placed stone work. Stone-Crete is a great way to add a more natural feel to your home's exterior or your garden.  It is recommended that your use Stone-Crete for retaining walls or foundation walls.
Color-Crete
Color-Crete is a particular type of decorative concrete that can bring both functionality and durability to any area. It also adds beauty to any type of environment. It will transform your existing concrete into a workable artistic material to enhance your home's décor. Color-Crete is available in a 35 different colors and they can be added to any concrete area in or around your house. A professional Petersburg decorative concrete specialist can help you find the perfect color to match your home.
Texture-Crete
If you have plain, old and boring concrete around your pool or in your garden, it is time for a professional upgrade. One of the best ways to improve the look of concrete without adding a crazy style is through texture. If you like that your concrete is white, but you do think it is rather drape, Texture-Crete is the solution to your problems. This material can be added in layers to create a unique texture that enhances any concrete surface.
Granite-Crete
Granite is one of the most popular types of flooring and countertops out there today. Unfortunately, it is also one of the most expensive. However, this doesn't have to kill your dreams of having granite flooring.  Granite-Crete is a type of Petersburg decorative concrete that goes on in similar processes as epoxy flooring.  Granite-Crete can give your home the illusion of having granite floors without breaking your bank account.  This material is ideal for foyers, offices, commercial venues, service areas, entryways, garages and more.
Metal-FX
Metal-FX is a type of epoxy flooring system that will transform dull concrete into a strong surface with a metallic sheen. Metal-FX can be applied with different pigments, lighting type and angles to cause the light to reflect off the surface. This will create the illusion of three or four different colors present in your flooring.
If you are looking for a great way to improve the concrete in and around your home, Petersburg decorative concrete is the best answer!
If you are looking for a professional Petersburg Decorative Concrete Service, then please call 941-448-1405 or complete our online request form.