Decorative Concrete Options for Your Bradenton Home or Business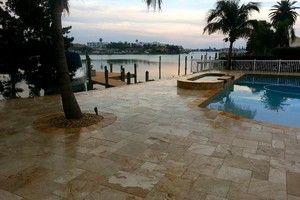 The recent surge in popularity of decorative concrete in Bradenton isn't really all that surprising when you consider how beautiful and economical it is. When it makes an otherwise dull and boring surface beautiful and durable, why not make use of it? There are also so many places you can use decorative concrete in order to spruce up a residential or commercial property.
Decorative concrete is fast becoming a much-loved flooring surface. Here are the top 5 reasons to consider having this type of flooring instead of stone or laminate.
1. Decorative concrete for the garage or driveway will eliminate any problems with cracks, stains, or other surface problems. It looks amazing.
2. It saves time and money as compared to installing new flooring.
3. There is minimal follow-up maintenance to do and decorative concrete is extremely easy to care for.
4. There a wide variety of colors, patterns, looks, textures, and design options to choose from. They are practically limitless when you have an experienced concrete artist to do the work for you.
5. It's a permanent flooring solution that you don't have to ever worry about replacing.
Professional Decorative Concrete Service Instead Of DIY
Decorative concrete takes skill to get right, so it is best left to the professionals. There are many mistakes you could make that will mean the whole thing has to be redone or removed. If you are considering this type of project for your home or business, it only makes sense to want to get the job done right the first time. Here at Mr. Epoxy & Paint, we have the training, experience, and skills to make sure you have a phenomenal looking floor that lasts for years to come. We can also repair decorative concrete and reseal it whenever you need it.
If you have never worked with this type of project before, you may not be aware of the techniques used or the results you can get. One of the best things about opting for decorative concrete is that the looks you can create are basically only limited by your imagination. Don't worry, even if you are not feeling very inspired and creative, working with a professional will help you to see the endless possibilities.
What Decorative Concrete Design Will You Choose?
The great thing about decorative concrete is that you can utilize what is already there which saves you time and money. So think of your old tired concrete as nothing more than a fresh, blank canvas ready for you to have decorated however you would like. Some of the popular choices include but are not limited to:
Brick – whether you want to create the illusion of traditional red brick or colorful bricks used for a spiraling pattern, it's all a possibility
Cobblestone – what a great way to add Old World Charm to your driveway, walkway or entryway without the cost of using real cobblestone
Flagstone – if you love the look of random, natural stone but don't want the expense of tearing up your concrete and replacing it, this is a great alternative
Tile – exact, equal sizes and shapes in any color or pattern all from engraving concrete
Wood plank – right down to the natural looking traits that make each piece of wood look unique
Plus so much more!
There is also the option to use a template and create unique designs for custom specialty floors. Have Buddha engraved on a surface in your yoga studio or your company logo on the sidewalk in front of your commercial building. Maybe you would like your family crest decorating the foyer of your home or the logo for your favorite football team gracing the patio floor. It's all possible.
At Mr. Epoxy & Paint, we can take care of your project from the initial design all the way to the cleaning and resealing after-care down the road. We look forward to showing you all of the exciting options there are. Contact us today to find out more about what we can do for your Bradenton home or business through decorative concrete.
If you have questions or would like more information about Decorative Concrete service in Bradenton, please call Mr. Epoxy and Paint, LLC at 941-448-1405 or fill out our online request form.